Flood Boards
Flood Ark protection systems -flood boards -are suitable for protecting building apertures, standard doors, patio doors, air bricks, windows, garages and gateways. The Flood Ark barrier can be fitted to domestic properties, commercial premises and any public building. The aluminium barrier frame is either fixed directly to the property (if there is at least one course of brickwork below the threshold), or can be recessed into the floor, flush with ground level.
The specially developed gasket, made from closed cell PVC foam, ensures a watertight seal to almost any surface, even that of rough or damaged brickwork. These seals are also impervious to weathering, including salt water, and ultra-violet rays. Flood Ark's powder-coated frames are aesthetically pleasing, unobtrusive and non-corrosive.
The lightweight, yet extremely strong, uPVC extruded floodboards which are attached manually to the frame to create the watertight barrier are reusable and require no special tools. This makes them easy for people of all ages and abilities to assemble and dismantle them easily. Each board is only 200mm in depth, and may be added or removed one at a time as flood water rises or recedes, giving maximum protection and accessibility to your property at all times.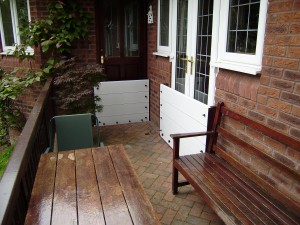 Colours Available In:
White
Stone
Terracotta
Mahogany
Brown